Say hello to your new favorite beers
Beer with benefits. Try the UK's only 0% beer that contains 10g of protein per can.
Just finished working out but don't fancy chugging a creamy shake alone in the corner, why not try having a beer with friends instead? Even better, let's make that beer alcohol free and containing 10g of protein per can. That way you won't undo all the good work you've just done.

Why? After working out what's more refreshing than an ice cold beer. Think about it….it's strange that after exercise you drink something that is milky and bloats you out.

With more and more people turning to alcohol free alternatives, we created a beer that gives nutritional purpose to drinking along with the satisfaction of drinking an ice cold beer.

Lifted Lager is the UK's only high protein alcohol free beer, this means you can enjoy 2-4 cans and get the perfect protein hit all while enjoying a beer. What could be better than that?

Unlike lots of other beers, we are totally vegan and we use sustainable plant protein too. In a world where we are trying to reduce our meat intake in order to help save the planet, Lifted offers an alternative protein source that's suitable for everyone.

Shop Now
10 grams of protein. No alcohol. Only 73 calories in each can.
0% Alcohol, 100% Satisfaction
Recover & Rebuild
Consuming protein after exercise helps build muscle and gets you ready to go back stronger for your next workout
Each 330ml can of Lifted contains 7g of carbs to help you replenish the muscle glycogen that you burned during your workout
Every can of Lifted contains 10g of protein to effectively stimulate muscle protein synthesis—the process that helps promote the muscle repair and growth after exercise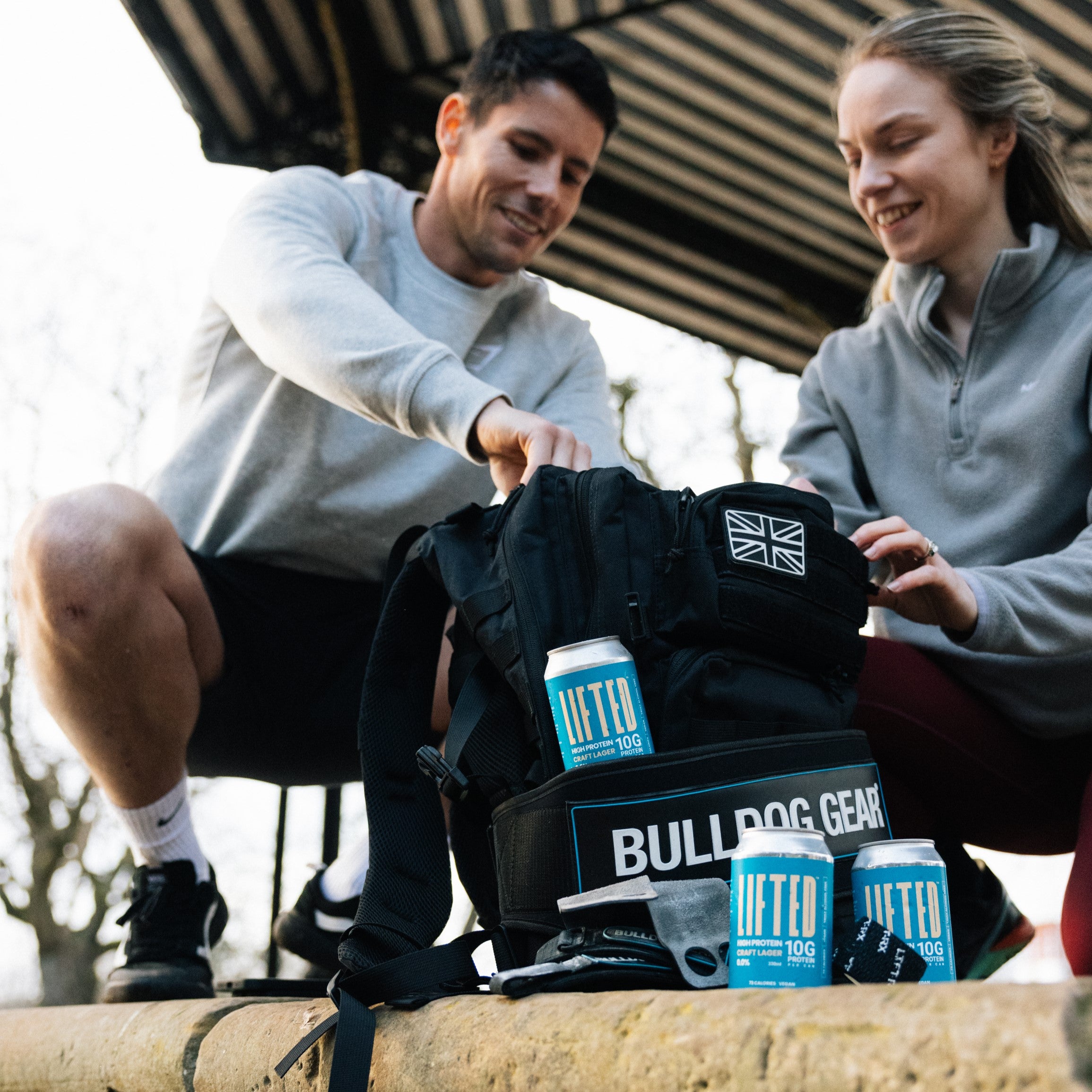 Meet the founders
We are husband and wife team Tony and Rebecca.

Lifted Beer was born from the moment after a great workout when you know you should have a protein shake but all you really want is an ice cold beer. As Crossfitters, gym-goers and outdoor enthusiasts, we know that feeling, and we knew there had to be a solution.

After months of formulating with our head brewer and lots of tasting, we finally nailed the perfect way to end to any workout.

We hope you love it as much as we do!